JOB MANUFACTUING FOR MYOB EXO
MORE-MX has seamless integration with MYOB. It provides a full, flexible business solution for all types of manufacturing environments. A perfect solution for MTO (made to order) production environments. MX has the flexibility to manage the production process and handover to accounts.
MTO and ETO (engineer to order) companies need to meet customers diverse needs to achieve success. Customers now demand customised products to compete in today's market. They want a point of difference to meet their own customer's needs. When all products are engineered and produced to on demand specifications, it is vital to ensure resources are well planned every step in the process. So, you need the technology to support producing MTO products on demand, on time, with efficiency that is cost-effective.
Engineer to order versus made to order
ETO and MTO are similar processes. But ETO starts with designing the product from the ground up.
Engineer to order
ETO is a complex process where designing, engineering and finishing a product is completed after receiving a sales order. With a high level of customer consultation throughout the design process, costs are difficult to predict at the start. It encompasses robust design processes for engineering shop jobs and bespoke engineering where you can explore, invent and engage in research and development.
Made to order
Rather than making products you want someone to buy, MTO manufactures exactly what your customer wants to buy. There is no design involved, and you can start with the BOM and process design.
Manufacturers who are competent in MTO can improve their profit margins. But the range of manufacturing variation, quality control and capacity constraints may become much more complex than making a single repetitive product.
Software to support MTO is more complex. A rigid structure with predefined fields is not going to accommodate growth and a continuous improvement cycle for very long.
MX is software designed to cope with MTO and custom manufacturing. It manages capacity planning, order scheduling and MRP (material requisitions and planning). It allows for delivery in full on time (DIFOT), to name a few of its capabilities.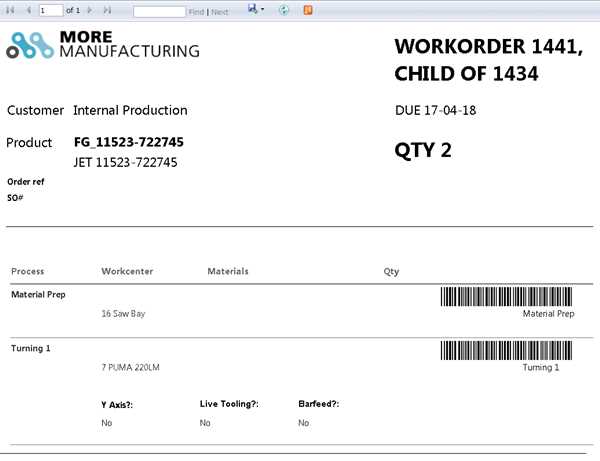 Example of an automatically generated workorder from MORE MX.
Capacity requirements planning
For MTO and ETO organisations to make the most of their resources to produce outputs in specific times, capacity requirements planning (CRP) is essential. MX optimises your capacity for production within your facility to plan maximum production capability within normal working hours. It takes production to the next level with everyone working off the same plan.
MX developed a finite capacity calendar as a central feature of CRP. It allows you to achieve realistic work schedules for all work centres and resources. This is core to managing production for DIFOT to customers. Its flexibility covers almost all staff production scenarios:
shift patterns

rosters

holidays

downtime for maintenance

variable start times

breaks

responds quickly to absenteeism

early and late finishes.
The finite capacity calendar allows you to easily forecast production runs with accuracy. Use it to auto spread advance workloads to calculate finish dates. Simulate proposed roster changes to see how it impacts all deliverables. It is easy to revert back to the original or look at other options before making decisions. Then publish the roster for workorders to the shop floor so everyone works from the same page.
It is fully customisable so you see what needs planning for each department. The finite capacity calendar works with lightning speed. Calculate and recalculate your capacity plan in an instant. How well you schedule your resources, raw materials and machines makes a difference to your bottom line. The capacity calendar gives you control and flexibility to change due dates based on delivery times, materials and resources available. It can forecast ahead for any workorder whether you will run out of materials at any stage of the manufacturing process, and much more.
Order scheduling
Good order scheduling keeps manufacturing processes on track. Job costing and accounting software will not help with order scheduling. MX is a simple solution to order scheduling with multi-level BOMs and workorders. When you want to produce an item, use the stock code in MX. This shows what you need to make the finished product (parent). You can see the parent item and it shows any child components needed to assemble the parent. Each child has its own BOM and routing stages. And MX knows automatically whether you have the materials in stock.
When you generate a workorder for the parent product, MX automatically generates workorders for the child component based on what you already have in stock. This is based on stock on hand, demand for other products, minimum production quantities and safety stock for replenishment.
MX schedules the production of components for the parent product to deliver on time. You can also manually input customer, custom or made to stock orders.
As an integrated system, MX also allows you to create workorders from sales orders and forecasting demand.
Material requisitions and planning (MRP)
MX material requisitions and planning (MRP) makes sure you always have the materials on hand. It has never been easier to ensure raw materials are available. MX generates new materials split by time, based on scheduled production dates on all orders and incoming forecast orders. It generates human approved MYOB EXO purchase orders automatically based on default suppliers. It also takes multi-level BOMs into account. For example, if you are missing screws for a multi-level job scheduled for production in three weeks, MX knows about it and takes action to resolve the shortage.
Delivered in full on time (DIFOT)
The power of MX allows you to get more jobs out the door on time. It manages sales order completion with the most efficient use of your finite resources. MX DIFOT capability also gives you measurable data to gauge your success. This allows you to see where there are improvements in the process. Using MX, you can balance and manage situations in real time.
Once the job is complete in MX, you can take care of the finances and accounting software creates invoices.
MX is powerful, flexible software that manages the manufacturing process. It simplifies the entire process from managing materials to resources. It integrates with most accounting systems to handle the financial side of sales orders. Contact us to find out more and we can arrange a demonstration.